Bare Stache Stick
Bare Stache Stick is backordered and will ship as soon as it is back in stock.
---
Couldn't load pickup availability
Same Day Shipping and Return Policies

Same Day Shipping Policy:

At Mountaineer Brand, we strive to offer Same Day Shipping to ensure our customers receive their orders promptly. While we aim for this service consistently, there are occasions, particularly during peak seasons and holidays, when meeting this commitment might not be feasible. Generally, orders are processed and shipped on the same day they are placed, except during high-demand periods.

Orders with expedited shipping, beyond our standard shipping options, will be prioritized to ensure faster processing and dispatch. Please note that during busier times, including holidays, this policy may be subject to exceptions due to the increased volume of orders.

We remain dedicated to providing efficient shipping services and will do our utmost to meet our Same Day Shipping commitment whenever possible. Your satisfaction is important to us, and we appreciate your understanding during periods when order processing may take slightly longer than usual.

No Questions Asked Return Policy:

At Mountaineer Brand, we take customer service very seriously. It's a simple policy. If you don't like your Mountaineer Brand product for ANY reason, we'll either do an exchange or we'll refund your money. No questions asked! We also replace items that are defective or damaged. If you need to exchange for the same item, contact Mountaineer Brand customer service. We'll get you fixed up right away. No questions asked!

Return Shipping Address:

54 GM Access Road Suite R, Martinsburg, WV 25403
To use Mountaineer Brand Beard Balm, scrape a small amount with your fingertip. Rub it between your hands to warm and soften. Apply evenly through your beard and styl as desired. Enjoy a nourished, tamed, and irresistible beard all day long. Use as needed for the best results.
About this product
Explained by Mountaineer Brand Founder Eric Young.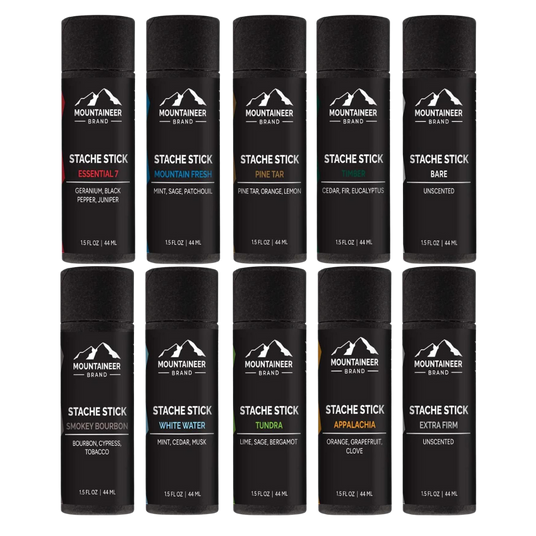 Key stache stick benefits
Enhance your mustache game with a quality mustache wax that offers both exceptional hold and care in a single product.
Precision Styling: This Stache Stick provides a strong hold, allowing you to sculpt your mustache into intricate styles with precision.
Great Hold: Its durable formula keeps your mustache shape intact throughout the day.
Natural Look: This wax offers a firm hold without making your mustache appear stiff or unnatural, maintaining a polished yet authentic appearance.
Texture and Definition: It enhances texture and adds definition to your mustache, giving it a fuller and more pronounced look.
Conditioning: Packed with nourishing ingredients, this wax doubles as a conditioner, keeping your mustache hair soft and hydrated.
Easy Application: Applying the wax is hassle-free, and it often comes with a convenient applicator. Simply warm a small amount between your fingers and style as desired.
Versatile Hold: Choose between a natural look or a more dramatic style, as the wax allows for a range of holds, from subtle to extreme.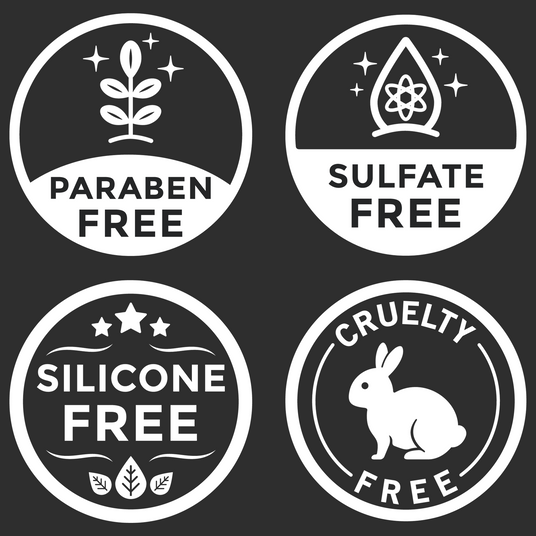 Natural ingredients and nature inspired scents for all skin types
Unleash your rugged charm with our All Natural Ingredients. Embrace the power of nature's grooming prowess as you tame your beard and care for your body. Crafted with potent botanical extracts and plant-based oils and butters, our products will nourish your skin and beard like never before. No chemicals, just pure strength and confidence in every use. Level up your grooming game with the essence of nature.