2 Beard Washes and 1 Conditioner - 9 Scents Available
2 Beard Washes and 1 Conditioner - 9 Scents Available - Smokey Bourbon is backordered and will ship as soon as it is back in stock.
---
Same Day Shipping and Return Policies

Same Day Shipping Policy:

Mountaineer Brand will ship your order USPS First Class Mail unless specified otherwise at checkout. All orders received before 12:00 PM EST, Monday-Friday, will, in most cases, be shipped the same day. We offer free standard shipping on U.S. orders over $60.00.

No Questions Asked Return Policy:

At Mountaineer Brand, we take customer service very seriously. It's a simple policy. If you don't like your Mountaineer Brand product for ANY reason, we'll either do an exchange or we'll refund your money. No questions asked! We also replace items that are defective or damaged. If you need to exchange for the same item, contact Mountaineer Brand customer service. We'll get you fixed up right away. No questions asked!

Return Shipping Address:

54 GM Access Road Suite R, Martinsburg, WV 25403
Couldn't load pickup availability
For the guy who likes to use too much
soap
. We know you're out there! This kit contains 2
Beard Washes
and one
Beard Conditioner
so you can have as much suds as you want.
Beard Wash - Water, Olive Oil, Coconut Oil, Avocado Oil, Aloe Leaf Extract, Vegetable Glycerine, Guar Gum, and a Blend of All Natural Fragrance and or Essential Oils
Beard Conditioner - Water, Cetearyl Alcohol, Betaine, Coco-gluco-side, Shea Butter, Olive Oil, Sunflower Seed Oil, Coconut Oil, Phenoxyethanol, Jojoba Oil, Aloe Vera Powder, Vitamin E Oil, Xanthan Gum, Citric Acid, Benzoic Acid, Dehydroacetic Acid, Lactic Acid, and a Blend of All Natural Fragrance and or Essential Oils
Beard Oil - Apply a few drops of Mountaineer Brand Beard Oil to your palms. Massage it thoroughly into the skin under your beard and distribute any leftover oil through your beard hairs. Style as desired. Use daily for best results. Enjoy a healthier, softer, and more manageable beard.
Beard Balm - To use Mountaineer Brand Beard Balm, scrape a small amount with your fingertip. Rub it between your hands to warm and soften. Apply evenly through your beard and styl as desired. Enjoy a nourished, tamed, and irresistible beard all day long. Use as needed for the best results.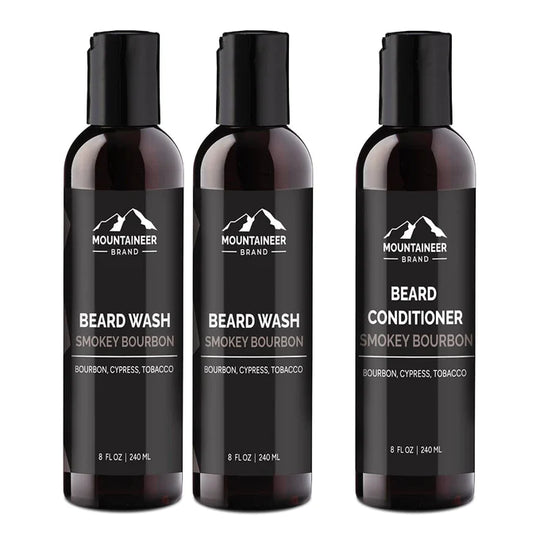 what You get
Using a combination of beard wash and conditioner is an effective and beneficial approach to maintaining a healthy and well-groomed beard. Each product serves a specific purpose and, when used together, they offer comprehensive care for your facial hair.
TWO - 8 oz Beard Washes -Cleanse and invigorate your beard with this Beard Wash. Specially formulated with all natural ingredients, this wash gently removes dirt, oil, and impurities, leaving your beard feeling fresh and revitalized. Embrace the power of nature for a clean and well-groomed beard.
ONE - 8 oz Beard Conditioner-  Experience the ultimate beard grooming boost with this conditioner. Specially crafted with all natural ingredients, this conditioner delivers deep hydration, tames an unruly beard, and leaves you with a confident, polished look.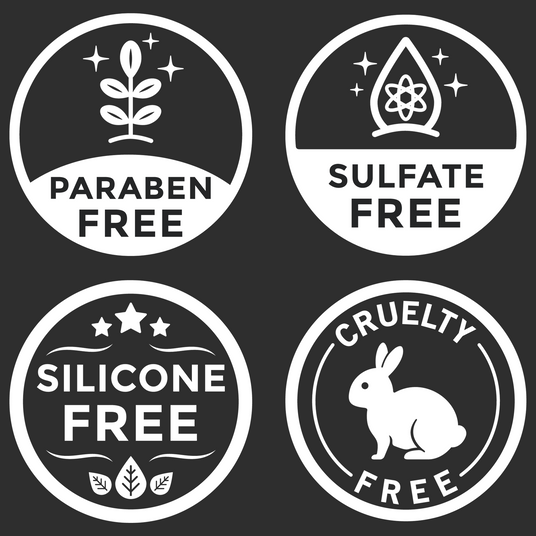 Natural ingredients and nature inspired scents for all skin types
Unleash your rugged charm with our All Natural Ingredients. Embrace the power of nature's grooming prowess as you tame your beard and care for your body. Crafted with potent botanical extracts and plant-based oils and butters, our products will nourish your skin and beard like never before. No chemicals, just pure strength and confidence in every use. Level up your grooming game with the essence of nature.