CLEANSE
CLEANSE is backordered and will ship as soon as it is back in stock.
---
Couldn't load pickup availability
Same Day Shipping and Return Policies

Same Day Shipping Policy:

Mountaineer Brand will ship your order USPS First Class Mail unless specified otherwise at checkout. All orders received before 12:00 PM EST, Monday-Friday, will, in most cases, be shipped the same day. We offer free standard shipping on U.S. orders over $60.00.

No Questions Asked Return Policy:

At Mountaineer Brand, we take customer service very seriously. It's a simple policy. If you don't like your Mountaineer Brand product for ANY reason, we'll either do an exchange or we'll refund your money. No questions asked! We also replace items that are defective or damaged. If you need to exchange for the same item, contact Mountaineer Brand customer service. We'll get you fixed up right away. No questions asked!

Return Shipping Address:

54 GM Access Road Suite R, Martinsburg, WV 25403
Experience the natural essence of care with our Bald Head Cleansing Soap/Shave Soap. Crafted with gentle and nourishing natural ingredients, this soap cleanses and moisturizes your scalp, leaving it refreshed and revitalized. It also works well as a liquid shave soap. Embrace the power of nature for a clean and healthy bald head. Elevate your grooming routine with our Natural Bald Head Cleansing Soap today. Try it now!
SIZE: 4 oz Bottle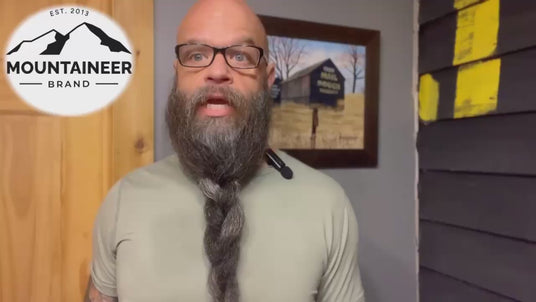 DISCOVER THE PRODUCT: INSIGHTS FROM MOUNTAINEER BRAND'S FOUNDER, ERIC YOUNG
Join Mountaineer Brand's founder, Eric Young, as he unveils the secrets behind this product. Discover why Eric's commitment to affordability and harnessing the power of natural ingredients sets Mountaineer Brand apart.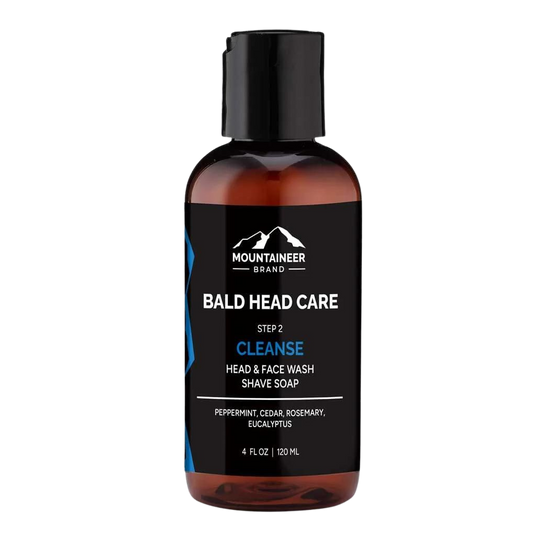 Key Product Benefits
Gentle Cleansing: Effectively removes dirt, oil, and impurities without stripping the skin's natural moisture.
Natural Hydration: Infused with nourishing extracts, it leaves your skin hydrated and refreshed after every wash.
Balanced pH: Maintains the skin's optimal pH balance, preventing dryness and irritation.
Unclogs Pores: Clears away debris from pores, reducing the risk of breakouts and promoting clearer skin.
Soothing Sensation: The natural ingredients provide a calming effect, making it suitable for sensitive skin.
Prepares for Grooming: Ideal for pre-shave or pre-grooming, ensuring a clean canvas for subsequent products.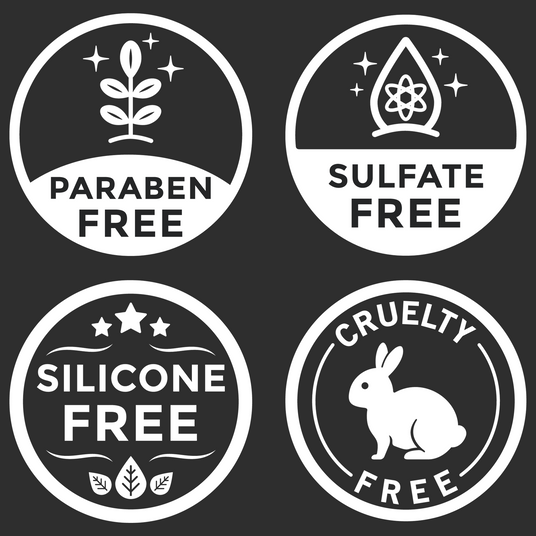 Natural ingredients and nature inspired scents for all skin types
Unleash your rugged charm with our All Natural Ingredients. Embrace the power of nature's grooming prowess as you tame your beard and care for your body. Crafted with potent botanical extracts and plant-based oils and butters, our products will nourish your skin and beard like never before. No chemicals, just pure strength and confidence in every use. Level up your grooming game with the essence of nature.