Heat Infused Beard Growth Balm with Biotin
Heat Infused Beard Growth Balm with Biotin is backordered and will ship as soon as it is back in stock.
---
Couldn't load pickup availability
Same Day Shipping and Return Policies

Same Day Shipping Policy:

At Mountaineer Brand, we strive to offer Same Day Shipping to ensure our customers receive their orders promptly. While we aim for this service consistently, there are occasions, particularly during peak seasons and holidays, when meeting this commitment might not be feasible. Generally, orders are processed and shipped on the same day they are placed, except during high-demand periods.

Orders with expedited shipping, beyond our standard shipping options, will be prioritized to ensure faster processing and dispatch. Please note that during busier times, including holidays, this policy may be subject to exceptions due to the increased volume of orders.

We remain dedicated to providing efficient shipping services and will do our utmost to meet our Same Day Shipping commitment whenever possible. Your satisfaction is important to us, and we appreciate your understanding during periods when order processing may take slightly longer than usual.

No Questions Asked Return Policy:

At Mountaineer Brand, we take customer service very seriously. It's a simple policy. If you don't like your Mountaineer Brand product for ANY reason, we'll either do an exchange or we'll refund your money. No questions asked! We also replace items that are defective or damaged. If you need to exchange for the same item, contact Mountaineer Brand customer service. We'll get you fixed up right away. No questions asked!

Return Shipping Address:

54 GM Access Road Suite R, Martinsburg, WV 25403
Nourish and fortify your beard with our enriching growth balm, promoting healthy growth and a polished appearance.
SIZE: 2 oz Glass Jar
About This Product
Explained by Mountaineer Brand Founder Eric Young.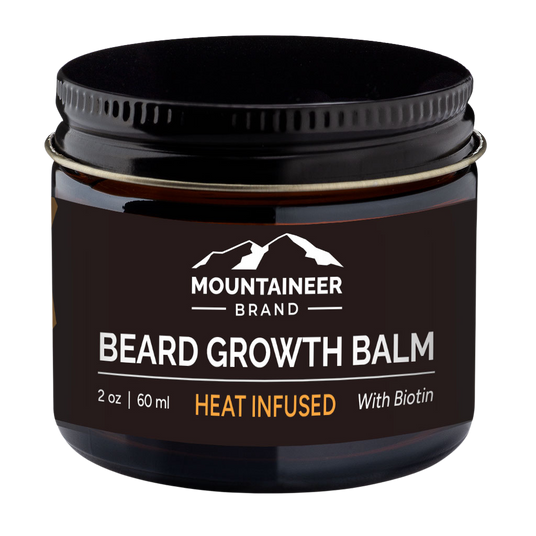 Key Beard growth balm benefits
Nourishes the Skin: This Beard Growth Balm is is infused with biotin. Biotin supports keratin production, a key protein that forms the structure of hair.
Promotes Beard Growth: Creates a favorable environment for beard growth by keeping the skin healthy and stimulating blood flow to hair follicles.
Seals and Protects - This balm seals in nourishing ingredients and moisture and offers all day protection and a great, styled look.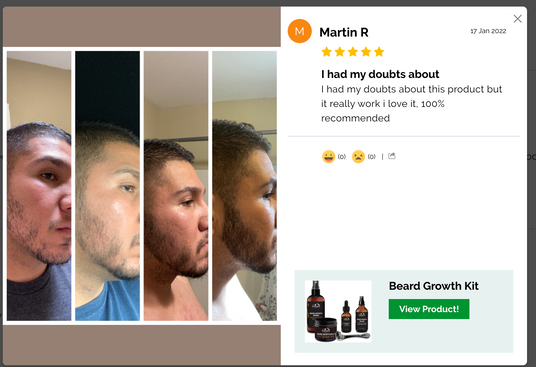 DISCOVER THE POTENT NATURAL INGREDIENTS FUELING ENHANCED BEARD GROWTH.
Curious about our well-kept secret for nearly three years? Get ready, the revelation is near. In the early stages of crafting our Beard Growth products, we believed certain ingredients should remain concealed. These formulas perform exceptionally, and we feared imitation attempts. However, times have changed. It's time you're informed about the precise ingredients fueling your journey to conquer patchy spots or cultivate a majestic mane.