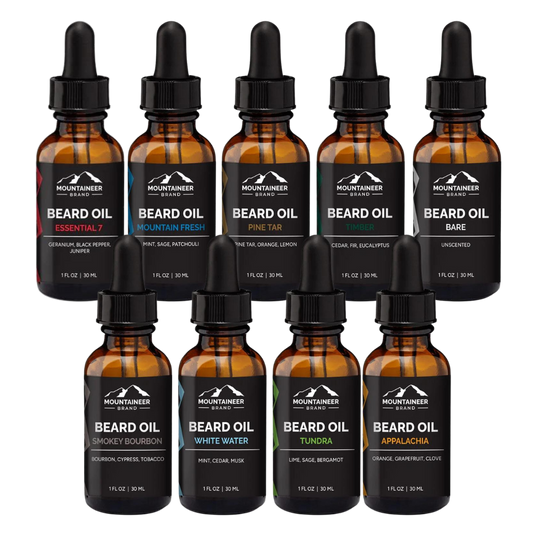 SCENT PROFILES: DISCOVER YOUR SIGNATURE GROOMING FRAGRANCE
At Mountaineer Brand, we offer a diverse selection of eight distinct scents, each inspired by the beauty of nature. Whether you prefer the invigorating freshness of mint, the earthy allure of cedarwood, or something entirely unique, we have a scent that resonates with your individual style. And for those who prefer a fragrance-free experience, we also offer an unscented variation. Explore our scent guide to find the perfect grooming companion that suits your preferences.
Smokey Bourbon

SCENT TYPE - Warm and Smokey

NOTES - Bourbon, Cypress, and Tobacco

Experience the captivating blend of aged bourbon, cypress, and tobacco in our Smokey Bourbon scent, an alluring aroma that exudes timeless sophistication and rugged charm.

White Water

SCENT TYPE - Cool and Invigorating

NOTES - Mint, Cedar and Musk

Energize your senses with our White Water scent, a refreshing blend of invigorating mint, soothing cedar, and subtle musk that transports you to the tranquility of a mountain stream.

Tundra

SCENT TYPE - Citrusy and Refreshing, Slightly Earthy

NOTES - Lime, Sage, and Bergamot

Elevate your grooming experience with our Tundra scent, a refreshing and slightly earthy blend featuring zesty lime, aromatic sage, and bright bergamot notes that evoke the invigorating spirit of the wilderness.

Appalachia

SCENT TYPE - Warm, Citrusy and Spicy

NOTES - Orange, Grapefruit, and Clove

Embrace the inviting essence of Appalachia with our warm, citrusy, and spicy scent, where vibrant orange and grapefruit mingle harmoniously with the comforting embrace of clove for an aromatic journey that's as captivating as the rolling hills themselves.

Essential 7

SCENT TYPE - Sweet and Earthy

NOTES - Geranium, Black Pepper and Juniper

Discover our Essential 7 scent, a harmonious blend of sweetness and earthiness, featuring the invigorating notes of geranium, the subtle spiciness of black pepper, and the grounding essence of juniper that elevates your grooming experience to a new level of natural sophistication.

Mountain Fresh

SCENT TYPE - Cool and Invigorating

NOTES - Sage, Peppermint, and Patchouli

Experience the invigorating allure of our Mountain Fresh scent, a cool and rejuvenating blend enriched with the crispness of sage, the refreshing zing of peppermint, and the grounding depth of patchouli, reminiscent of a brisk mountain breeze that revitalizes your senses.

Pine Tar

SCENT TYPE - Citrusy and Earthy

NOTES - Pine Tar, Orange and Lemon

Immerse yourself in the unique harmony of our Pine Tar scent, a captivating blend of citrusy freshness with the earthy richness of pine tar, complemented by invigorating notes of orange and lemon, evoking the essence of the great outdoors.

Timber

SCENT TYPE - Woodsy, Earthy, and Masculine

NOTES - Cedar, Fir, and Eucalyptus

Experience the rugged masculinity of our Timber scent, a captivating blend of woodsiness and earthiness, highlighted by the robust presence of cedar and fir, intertwined with the invigorating touch of eucalyptus, inviting you to embrace the essence of the mountains.

Bare

SCENT TYPE - This Variation is Unscented

NOTES - Very Subtle Aroma of Natural Ingredients

Embrace the pure simplicity of our 'Bare' variation, unscented to allow the natural ingredients to speak for themselves, offering a very subtle and gentle aroma that embodies the essence of purity.